We're Still Here To Help!
In this time of distance learning, the Writing Center is still committed to supporting you during all stages of the writing process!
You can still make an appointment with us on WCOnline. We are offering two modes of consultations this term: online (synchronous) and e-tutoring (asynchronous).
Online Consultations
In a online consultation, a Peer Writing Consultant will expect you to log in at a certain time. You and the consultant can video chat, create a chat log that you can save for later, and/or make direct comments onto a paper you've copy and pasted into the "whiteboard" section of the online platform. This mode is closest to the face-to-face writing consultation experience!
E-tutoring Consultations
In an e-tutoring consultation, you will attach a document to your WCOnline appointment. Then, a Peer Writing Consultant will look over your document and reattach it your appointment within 24 hours. They will offer observations, pose questions, and provide suggestions. Remember, this is not an editing service. Consultants will not "fix" your paper. They will guide you through the process of clarifying and strengthening your own ideas. This mode is a good fit for people with irregular access to internet.
Making An Appointment
For Online Consultations
Log in to kzoo.mywconline.com (WCOnline) like usual!
Make an appointment with a consultant that has online appointment slots available.

Remember that the schedule is in Eastern Standard Time! You will have to manually calculate the time difference if you are not in EST. We recommend the Time Difference Calculator found at this link!

Respond to the "Create a New Appointment" questionnaire. You may also attach your document at this stage, but you will also be able to import your document once your consultation starts.
Log back into WCOnline between 5-10 minutes before your scheduled consultation time. Click on your appointment and hit "Start of Join Online Consultation". We highly recommend coming early so you can play around with interface!

WCOnline will request permission to access your webcam and microphone. We would love to hear your voice and see your face! However, if your device cannot perform those functions, WCOnline also has a real time chat box.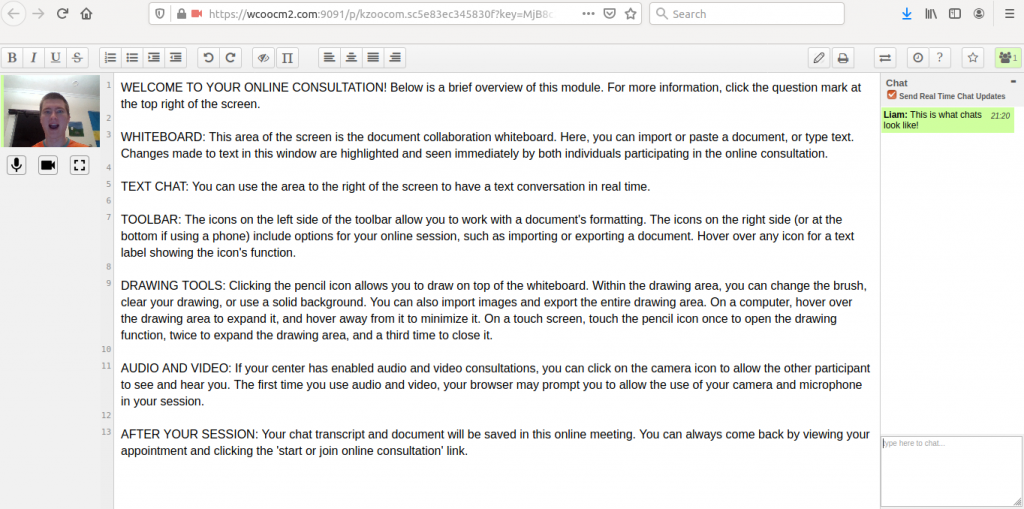 Have a great consultation!
For E-tutoring Consultations
Log in to kzoo.mywconline.com (WCOnline) like usual!
Make an appointment with a consultant that has e-tutoring appointment slots available.

Respond to the "Create a New Appointment" questionnaire. It is crucial to be as thorough as possible. The more information the better!
Attach your document to your appointment. Word documents are the preferred option. This way, your consultant can add annotations to your writing easily.
Within 24 hours after your scheduled appointment, you will receive an email from WConline with your document and your consultant's feedback attached.
If you have questions, make a follow up appointment!
Using WCOnline's Workspace
WCOnline comes with a fantastic online editing workspace!
On the left hand side, you will find familiar tools from word editing software, font styles, bulleting and tabs, and undo and redo buttons. Then two weird symbols explained below, and back to familiar text alignment buttons.

WCOnline tracks who is typing by coloring text. But what about when you're done and you want to accept all those changes? The button with the eye will set all text to black!
The pi symbol is for embedding LaTeX/MathJax, a way of representing math equations. Helpful for STEM papers!

Perhaps the most important button is the third from the left – the arrows pointing both ways. This is the import and export button. It will allow you to import your work and export it after your changes have been made. Make sure to export your work before importing! Your work will not be saved by the WCOnline workspace; you must export it to your computer.