Ally Noel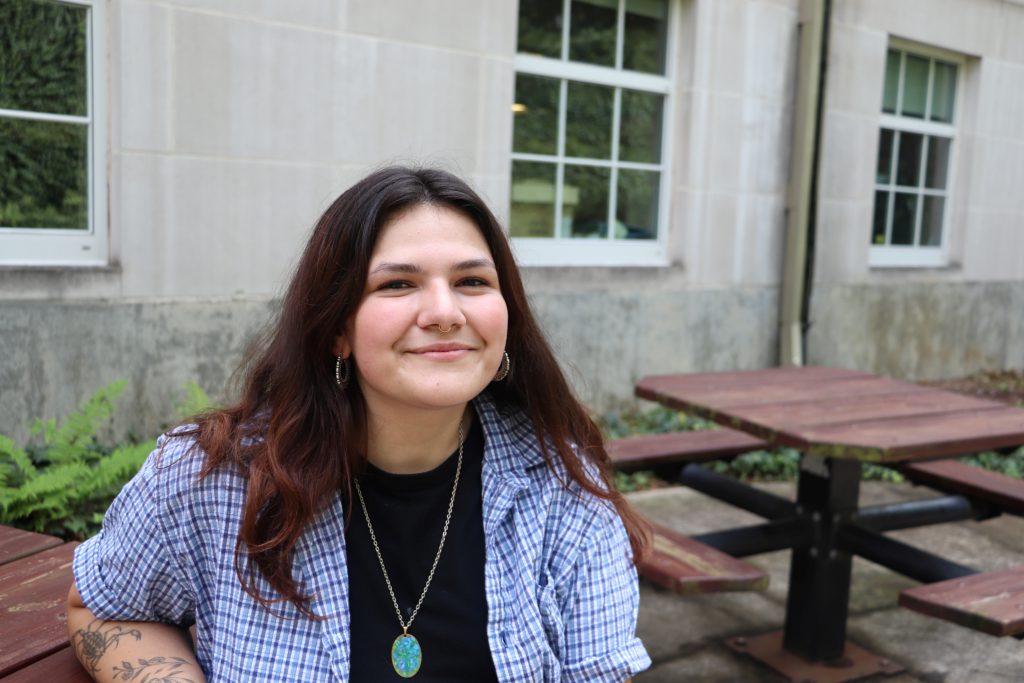 Ally Noel is a senior double majoring in Anthropology/Sociology and English. Ally's fav part of the writing process is polishing/finalizing drafts of writing through affirming, applauding, and uplifting peers throughout the final stretch of submitting their work. Ally likes to believe she has the "gift of the gab" and loves to chat about anything and everything and probably will show you many pictures of her cat Nola. In Ally's free time, she likes to purchase overpriced coffee, film and digital photography, and attempting to write poetry! Above all, Ally aims to meet students wherever they are at in the writing process and help cultivate a sense of confidence in the craft of writing.
Anum Khan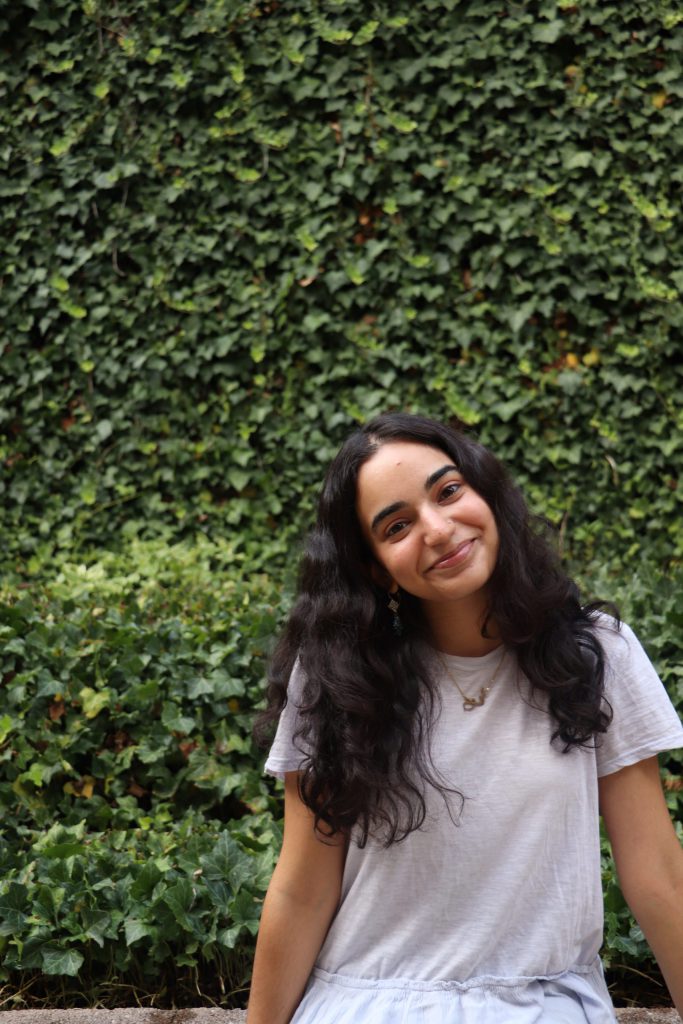 Anum Khan (she/her) is a senior majoring in Psychology with a concentration in Community and Global Health. This is her third year working at the Writing Center and she couldn't be more thrilled to be back. You might also see her as a SRA of Dewaters or eating samosas at a Kdesi meeting! Her favorite part of the writing process is helping students brainstorm ideas and polish their final work. She has worked with a variety of essay types and is always curious to learn a new topic. Her main goal is to have students leave their consultation feeling confident in their writing abilities and have all their questions answered. If you're ever in a consultation with her, please feel free to bring up Taylor Swift, BTS, cats, and books. She can talk about them forever and ever.
Ava Fischer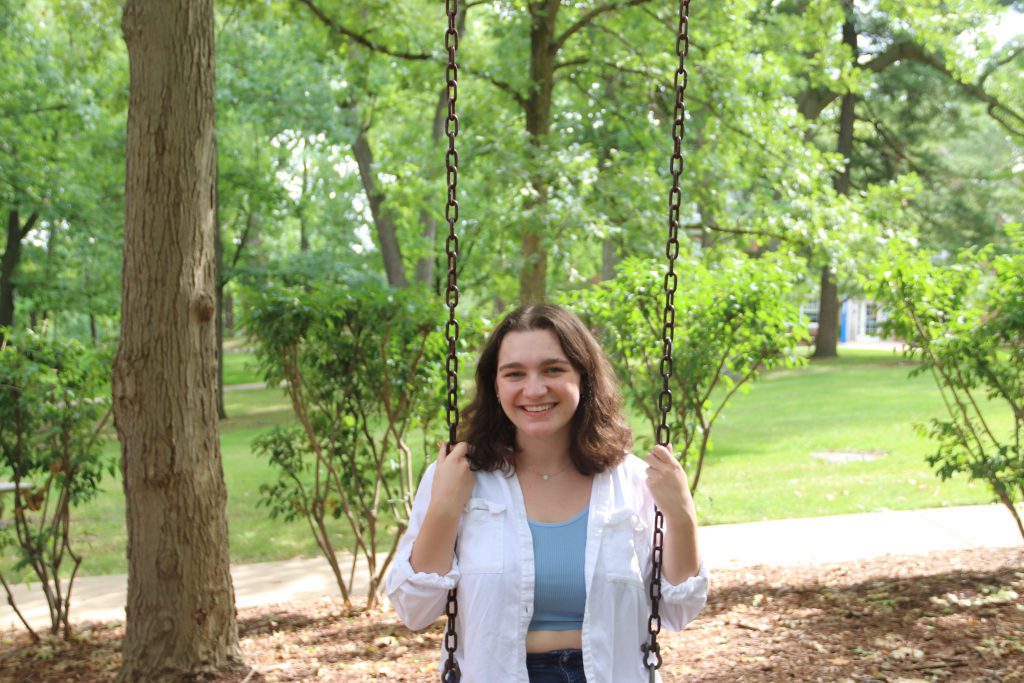 Ava Fischer (she/her) is a senior double majoring in English and French. She recently returned from studying abroad in Lyon, France where she lived with a host family and tried her hand at speaking a second language. When she's not conjugating complex verbs or discussing sapphic subtext in classic literature, Ava enjoys her time co-directing K's Frelon Dance Company where she choreographs lyrical and jazz pieces for all dance ability levels. She is also on staff for The Cauldron, K's annual literary and visual arts magazine. Whether you're stuck on your first draft or want to work through pre-submission nerves, Ava is here to lend an ear. She hopes you can find a place at the Writing Center to think through your ideas, brainstorm for abstract essays, plot out creative writing projects and more! As Ava enters her final year at the Writing Center, she hopes to create a space for students to feel welcome to discuss their work at any stage of the writing process. Feel free to come say hello!
Carolyn Ingram
Carolyn is a senior studio art major, with a film and media concentrate. Even though art is her favorite, she has taken a wide variety of classes during her time at K, including: Film Theory, English, ANSO, Philosophy, History, French, and more! When not at the writing center, you can find Carolyn, wandering the fab, drinking coffee at the bookclub or doing improv with Monkapult! This is her second year working at the writing center. She loves hearing what people on campus are learning about and getting to meet new people. If you are feeling overwhelmed about where to start, Carolyn's favorite part of the writing center is getting to brainstorm with people!
Daniel Flores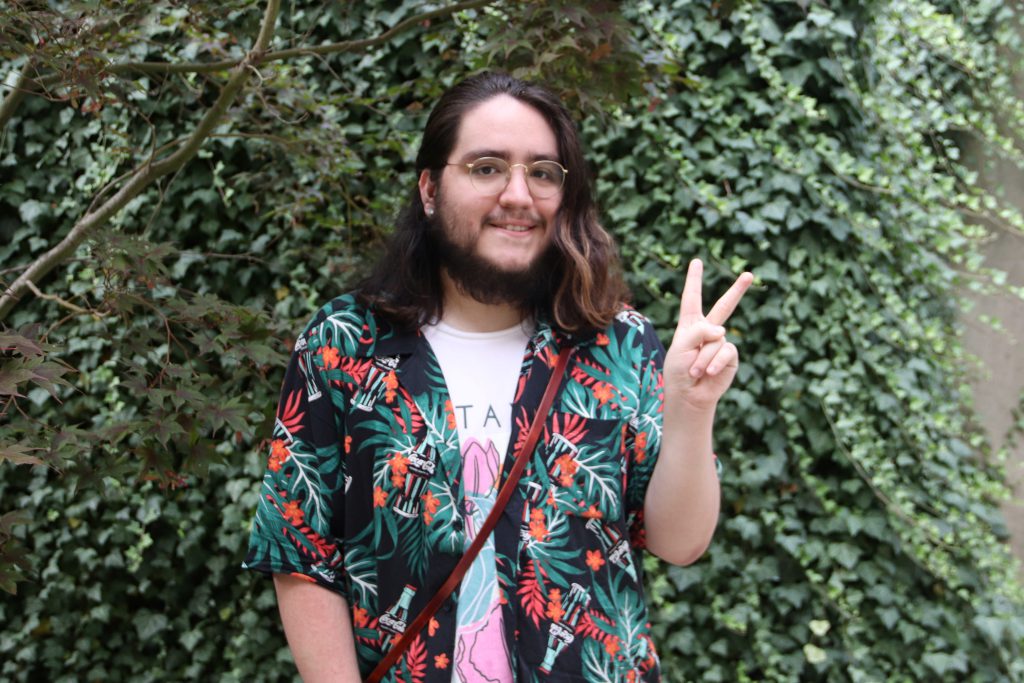 Daniel (they/them) is a Senior at K working at the writing center for the first time! They're an English major with a double minor in Philosophy and Theater Arts and have spent all their college time writing essays for various humanities courses, so they're super excited to be able to help with and get into dialogue with students from all kinds of backgrounds for all types of papers! As a queer Latino from California, Daniel has been surrounded by many different people from different world views and hopes to reflect this in their consultations. When outside the writing center, Daniel can be found always putting out the silliest, goofiest vibe they can, even being involved in Monkapult! You can also find Daniel performing and directing for the K a cappella group, ACAPOC! Feel free to say hi when you see them around!
Noah Chun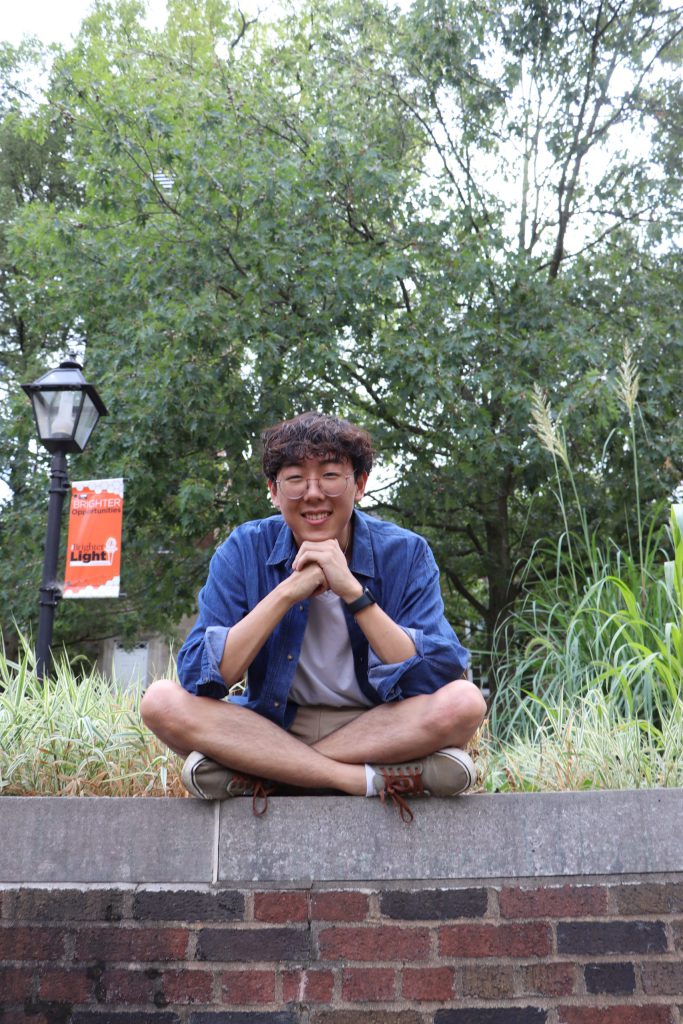 Noah Chun (he/him) is a sophomore double majoring in Philosophy and German and minoring in Religion with a concentration in insomnia. He is an Amazing Asian who likes to read, daydream, and spend quality time with his cello, Maple. Noah likes to make lots and lots of schedules and then not follow them at all, so he very much understands the need to stay organized and also how to work through situations when everything falls apart. As a writer, Noah's greatest strengths are in the brainstorming department and in working through a thought process to get a complete argument, but he's totally willing to work with you no matter what stage of the writing process you may be in! He very strongly believes in uplifting everyone's experiences as unique perspectives, in helping people find their own individual voice, and that any purchase is justified as long as it's on sale.
Sofia Rowland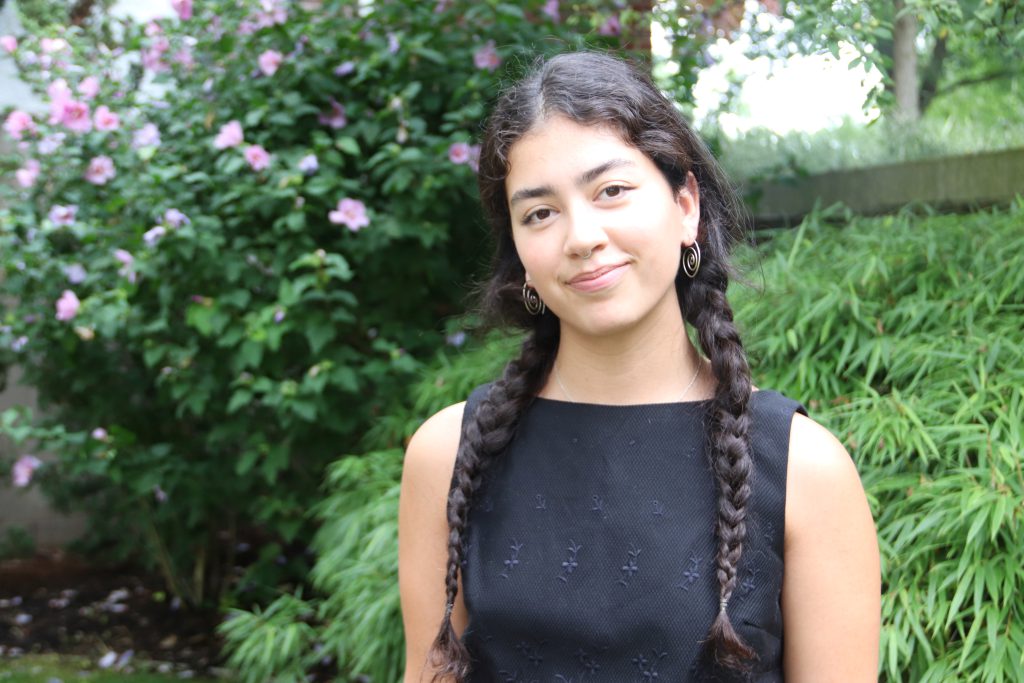 Sofia Rowland (she/her) is a senior majoring in English and minoring in Anthropology/Sociology. She is currently working on her Poetry SIP so she understands how it feels to write for a deadline, the need for a change in perspective, and the imagination required to work on a creative writing assignment. She loves to brainstorm every stage in the process of a project, whether you love to write or are a first year unfamiliar with college level writing. She is very organized and enjoys talking, learning from, and listening to new or old friends. When she's not at the Writing Center, you're most likely to find Sofia taking a walk on or around campus with her headphones in, stopping to admire every plant in the Arb as a Crew Member, or rehearsing with the Limelights as a Music Director. She is so excited to help you find your own voice, express yourself through writing, and gain confidence in yourself and your abilities!
Sophia Louise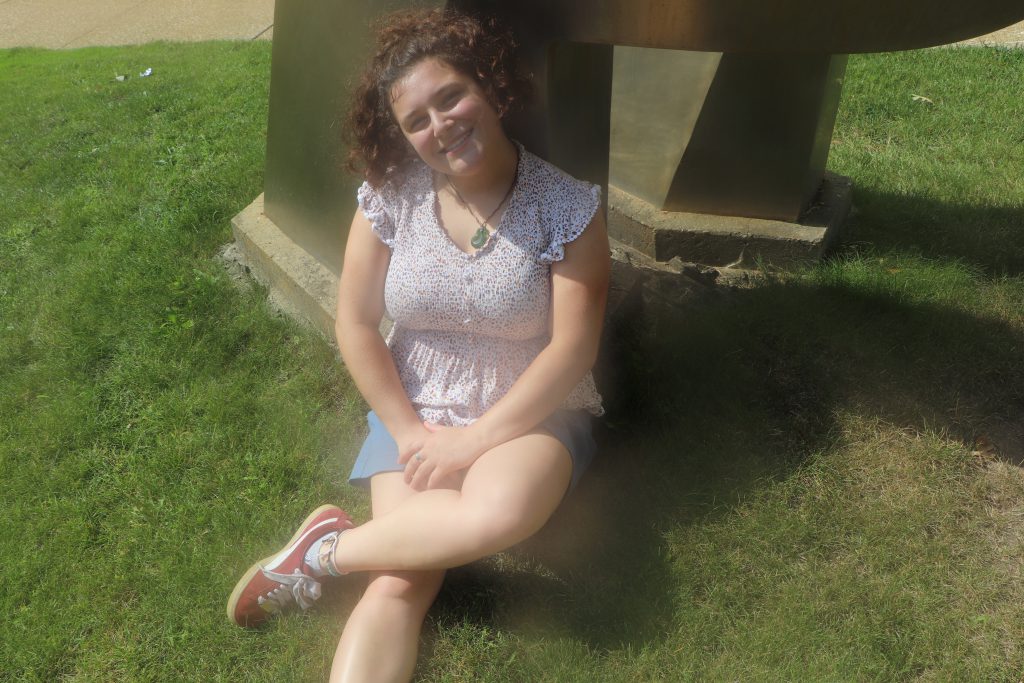 Sophia Louise responds to many names— Sophie, Sophia, Soph— but she typically goes by Lou due to the abundance of Sophia's everywhere. She uses she/they pronouns and has the track order of every Harry Styles album memorised. They grew up in Hangzhou and Shanghai, China but currently lives in Royal Oak, MI. They love media in any form; writing, watching, reading, or listening. Whether your taste is Red, White & Royal Blue, Peaky Blinders, or Howl's Moving Castle, she can gush all day. So bring your poetry, stories, letters to your ex-boyfriend, and scathing text paragraphs to that one friend, and they are ready to cheer you on! Plus she can bring her dog, Barry Allen, upon request.
Unayza Anika
Unayza Anika (she/her) is a Sophomore majoring in Biochemistry and minoring in Spanish. She has lived in 3 countries in her life, Bangladesh, Costa Rica and the United States. She speaks 5 languages! Including Bangla, English, Spanish, Hindi and Urdu. She loves traveling, hiking and making questionable ramen recipes. Unayza will not use the word soccer because she believes it should be called football and American football! But other than that, she is a very flexible and caring person. She believes writing is one of the most vulnerable forms of self expression and understands that it is important to have a welcoming and nurturing ambiance for her consultations. Even though she is a biochem major, she has interests in humanities and the social sciences. She believes the Writing Center will help her stay in touch with those interests and continue brainstorming these unique topics. She's very excited to start consultations and hopes to be a valuable resource to the students.